---
Dear Victory Family & Friends,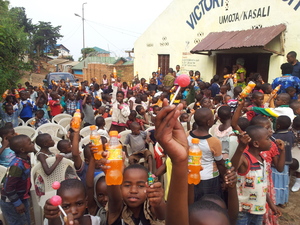 The Global Christmas Feeding Program with a great success this year!! Over $30,000.00 was raised from our Victory Church Family and was distributed to nearly 20 nations to feed thousands of street children, orphans and those in need.
Thank you Victory Family for making the 2014 Global Christmas Feeding Program the best one yet!! Thank you for partnering with us in reaching the nations with the Gospel of Christ and in touching the lives of those in need around the world!
Please read the following report and watch the video with a special thank you from Dr. Al Purvis (Victory South East Asia) and Dr. Jey Jeyaseelan (Victory India).
We look forward to another successful Global Christmas Feeding Program in 2015!
In This Issue
This year, because of the generosity of our Victory Church Family and others who donated, we raised over $30,000.00 for the Global Christmas Feeding Program.
We were able to send money to nearly 20 nations around the world and reach out to thousands of street children, orphans and those in need during the Christmas season. Here are some brief reports from a few of the nations:

Philippines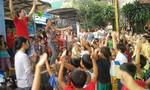 Victory Churches in the Philippines was able to feed nearly 1,200 children and those in need. As well as serving them all a meal they also had a day filled with outreach ministry. Singing, dancing, games and fun was had by all who came. The teams presented the gospel and saw many come to Christ.

Poland
Pastor Magdalena Broda and her team in Poland were able to reach about 215 children through various school events, after school clubs and a children's hospital. The children were so excited to receive gifts and have a party. The team shared the gospel with them and had the opportunity to pray with many.

India
Dr. Jeyaseelan and his ministry teams always do such a wonderful job with the Global Christmas Feeding Program and this year was no different. They were able to put on Christmas feasts in many of the provinces and cities in India, feeding thousands of children who live well below the poverty level. It was a wonderful chance for them not only to receive a hot meal, which is a rare gift, but also to experience the love of Christ.

Myanmar
The Victory Churches in Myanmar did 2 separate events reaching over 500 villagers and kids. Not only did they provide meals for all of these people but they also did 3 days of bible teaching, prayer and ministry to the villagers, seeing many salvations and healings.
Prayer Requests
- Pray for Drs. George & Hazel Hill that they would receive protection, direction and inspiration as they lead this movement.
- Pray for all of the leaders in our nation's across the world. That they would experience the love and strength of the Lord as they work to expand the kingdom of God to every tribe and nation.
- Pray that the people that were reached through this program and touched by the Lord will continue to stay connected to a local church.
-Pray that the 2015 Global Christmas Feeding Program is just as successful as this year was.
- Pray that we will be able to reach more nations and more people in 2015 than we did for 2014.
Missions Opportunities
- Visit one of our Victory Children's Homes! Touch the life of a child and experience transformation in your own life! Contact our missions office for more information and for upcoming trips and missions opportunities.
- Sponsor a child or widow through our Victory Sponsorship Program. Helping those with no home and no hope. Providing them with a place to live, nutritious meals and education, providing a better today and building a better future. You can be that change in someone's life today! For more information you can contact Lori Peters at This email address is being protected from spambots. You need JavaScript enabled to view it..

- Plan a trip to our Baja Missions base in Ensenada, Mexico! Join us there from February 23-27, 2015 for the Missions Team Leader Training. Contact Victory Church on the Rock to register for this trip, phone the office at 780-532-2350 or email, This email address is being protected from spambots. You need JavaScript enabled to view it..
- Contact our office at This email address is being protected from spambots. You need JavaScript enabled to view it. for information on our Victory Children's Homes in nations around the world and many other missions opportunities available to you. There is a place for you on the mission field!