September 2014 - Victory World Missions Update - Global Christmas Feeding Program
---
Dear Victory Family & Friends,

In only a few short months Christmas will be upon us and it's time for us to begin preparations for the Global Christmas Feeding Program! We want to be well prepared to give the children in our Victory Nations a fantastic Christmas and to share the love of Christ with them.
Start Planning Now! Come up with creative ways that you could contribute to the this project and start setting money aside now. Together we can make this a Christmas to remember for children around the world.
---
The Global Christmas Feeding Program was created because there are children all over the world that at Christmas find themselves without family or a home. VCI Missions has many projects around the world that help to rescue children and to provide them with a home, an education and most importantly a relationship with Jesus. Here are a few of the projects we have around the world:
Victory Childrens Homes
We have homes established in many nations providing orphaned and abandoned children with a loving home and education that assures them a better future.
Slum Schools of India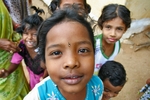 The slums of India are renowned worldwide as being some of the most impoverished places on the planet.
VCI Missions has gone in and started schools for the children in the slums to provide them with an education and a hope for a better life.


Not4Sale & Prevention Schools
Our Not4Sale program rescues children from the sex trade in Cambodia and provides them with a place of safety and healing, giving them the tools to to move forward in their lives.
Our prevention schools help to educate children and to keep them out of the view of traffickers.
Feeding Programs
VCI Missions has feeding programs in many nations around the world that help to feed hundreds of children.
With generous donations from people like you we will be able to provide a Christmas feast to impoverished children around the world.
Click here to donate through our website.
You can also donate through your local Victory Church or by contacting our office.
---
Prayer Requests
- Pray for Drs. George & Hazel Hill that they would receive protection, direction and inspiration as they lead this movement.
- Pray for the needed support to be raised for our Global Christmas Feeding Program.
- Pray for our various children's projects around the world. They need spiritual and financial support to continue to expand and to be even more effective in the ministries that we do.
- Pray for our overseas missionaries who have moved their lives to the other side of the world to help our children's projects have the highest impact that they can in the nations they are in.
- Pray for national leaders running these projects, that they would receive strength and inspiration in their area of service and for more nationals to be raised up to carry on the ministries with in their nations.
---
Missions Opportunities
Visit one of our Victory Children's Homes! Touch the life of a child and experience transformation in your own life! Contact our missions office for more information and for upcoming trips and missions opportunities.
Sponsor a child or widow through our Victory Sponsorship Program and change someone's life today! For more information you can contact Lori Peters at: This email address is being protected from spambots. You need JavaScript enabled to view it.
Plan a trip to our Baja Missions base in Ensenada, Mexico! Join us there from February 23-27, 2015 for the Missions Team Leader Training. Contact Victory Church on the Rock to register for this trip. Phone the office at 780-532-2350 or email: This email address is being protected from spambots. You need JavaScript enabled to view it.
Contact our office at: This email address is being protected from spambots. You need JavaScript enabled to view it.
for information on our Children's Homes and many other missions opportunities available to you. There is a place for you on the mission field!